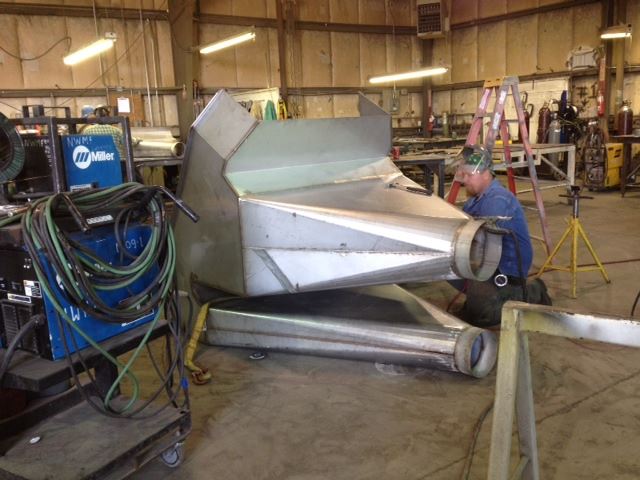 May 17, 2017 8:21 pm
Leave your thoughts
The food processing industry is an expansive field that encompasses everything from large commercial operations with thousands of workers to small local producers. "Food processing" is a broad term that indicates the processing of raw foods, but it can range from peeling potatoes to canning tomatoes.
Because of the wide array of food processing functions and methods, there are a variety of different types of equipment that must be used. And because the food processing industry must deliver a product that is entirely safe for consumption, it is vitally important that any and all equipment that comes into contact with the food that is being processed is as sanitary as possible. In order to achieve this aim, it's essential that the metal fabrication of food processing equipment be done to a high degree of quality.
The Importance of Selecting the Right Material
Good equipment starts with the selection of a good material. Materials used for food processing equipment include aluminum, carbon steel, plastics and stainless steel. Each material comes with its own benefits and considerations, so it's important to carefully consider the options available to you. Aluminum, a common choice in metal fabrication for food processing, is a lightweight, economical material. It is notably resistant to corrosion, but also more susceptible to surface damage if not properly handled during metal fabrication in Umatilla County, OR.
Another choice material for the food processing industry is carbon steel. It is incredibly common as a material for food processing equipment, but its tendency to rust and corrode if not properly cared for and protected is a concern to take into account. Stainless steel, on the other hand, is augmented with alloys that make the material far more resistant to corrosion and rust, which increases the strength and integrity of the metal. While it might be a more costly choice up front, stainless steel is a great option when it comes to retaining clean, sanitary and strong equipment for food processing.
Preventing Sanitation Problems by Choosing the Right Metal Fabrication Company
As important as it is to select the right material for your equipment, it is even more essential that you choose a company that offers high-quality metal fabrication in Umatilla County, OR with plenty of attention to detail. Because of the importance of getting high-quality food products to consumers, it's important to know that the metal fabrication shop that you choose to work with can provide the highest quality work available. Issues that might arise with improper fabrication techniques include crevices and cracks in the equipment, a problem that arises as a result of improper welding techniques. Another concern is improper handling, which can result in surface scratches and dents. Although they may seem like a minor issue, scratches and dents in equipment are not merely a cosmetic problem, and can create crevices that encourage bacteria growth.
For the highest quality metal fabrication in Umatilla County, OR, you can trust NW Metal Fabricators Inc. With more than 100 years of combined experience working with customers in the food processing industry, we can help provide you with highly skilled and detail-oriented work. Contact us for more information about the services that we offer and how our trained team of certified welders can help provide you with quality food processing equipment.
Categorised in: Steel Fabricators
This post was written by admin