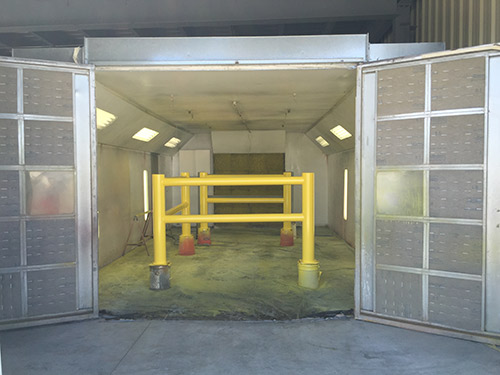 In addition to welding, fabrication and machining, we're also your go-to course for metal finishing services as well. Our familiarity with different finishing procedures and styles has made us knowledgeable in how to best apply these techniques to your project. The result is a finished product that's truly of a high caliber.
Painting: We offer painting services designed to give your project a truly finished appeal. Our custom painting capabilities depend on the scope of your project and the type of metal we're working with. We have a full-sized paint booth that can support numerous different projects.
Sandblasting: Our ability to provide sandblasting in Umatilla County, OR means your finished product is easily prepped for painting or powder coating. We have access to numerous different abrasives, to ensure a finish that's clean and pristine.
Powder coating: Powder coating is a great way to finish a metal project, leaving it with a resilient finish that's also moisture-resistant and clean-looking. We can powder coat your fabricated items thoroughly, to ensure a truly finished aesthetic.
If you have questions about any of the metal finishing services we offer, consult with our experienced team today! We can help you decide what the best approach to finishing your project may be. Regardless of what methodology you choose, we guarantee a product that's finished to an unparalleled level of excellence.
Materials in stock
Through our fully-stocked material warehouse, we're able to sell a wide range of raw metals. We aim to be your trusted sheet metal supplier in Umatilla County, OR, with options that include the following:
Angle iron
Beams
Channel iron
Decking
Expanded metal
Flat bar
Pipes
Plate
Rectangular tubing
Round rod
Sheet metal
Square tubing
UHMW
For more information about any of the finishing services we offer or to inquire about the raw materials we have in stock, please contact us today by calling 541-567-7171.